Non-Porous Cross-Linked Polymer Reference System:
These are the only truly solid-state reference systems of their kind in existence. This is a non-permeable system in which only selective ionic communication with the secondary junction (and tertiary) is permitted. This creates a very stable reference potential, even during harsh process conditions, that provides the following advantages:
Experiences far less aging and deterioration over long periods for low drift and maintenance.
Solid-state construction allows for scraping clean with a straight-edge razor to extend sensor lifetime when fouled.
It is not easily dried out when exposed to air for prolonged periods.
Does not absorb fluids of gases into junction and is significantly more impervious to solvents.
Stable operation even in the presence of harsh chemical attack at high temperature in the presence of abrasive slurries.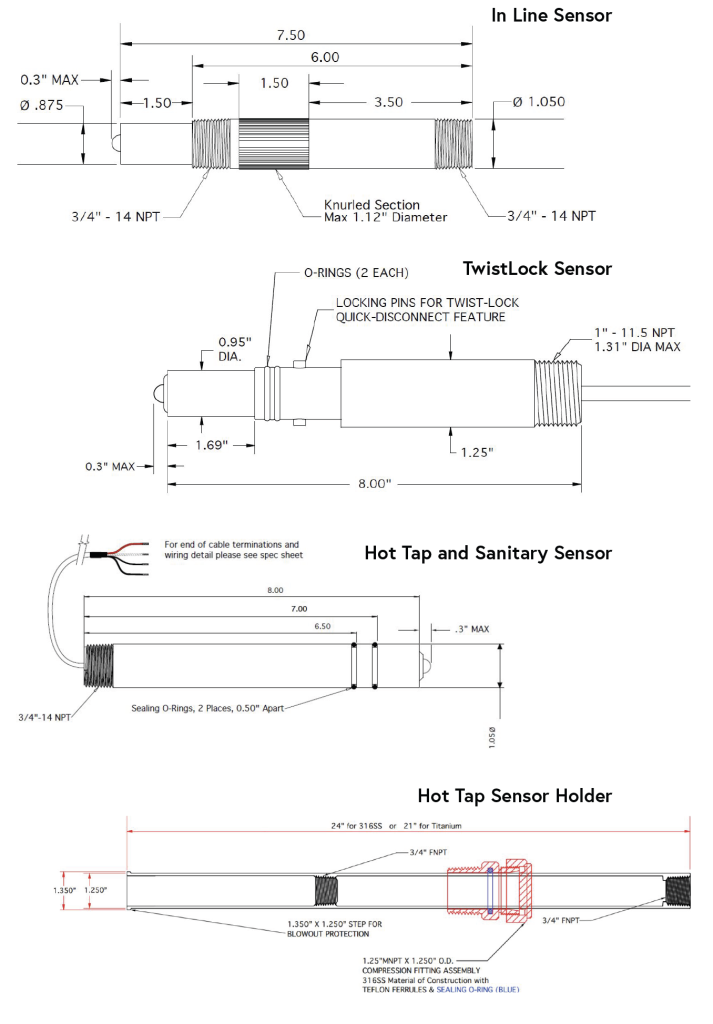 pH Glass features include:
Unique low-profile thick-wall break-resistant parabolic pH glass element.
Ideal for high viscosity solutions or high particulate abrasive slurries.
Substantially minimize breakage with process upsets, mechanical abuse, or accidents.
Low-profile platinum ball style ORP sensing element.
Suitable for applications requiring resistant to high velocity flow, high pressure installations up to 200 psig, as well as aggressive dissolved gases and volatile organic solvents with suitable options invoked.
Saturated sodium (brine) resistant pH glass elements.
High-temperature & pressure-resistant pH glass elements.
Supports down to -35° C to 150° C at pressures up to 200 psig.
Wide range pH glass
Low impedance pH glass
Dual pH & ORP All-In-One
Integrated Modular Sensor Design
Specialized pH Glasses & Platinum ORP Redox Sensing Elements. These specialized pH elements are designed not only to survive such conditions but perform with great repeatability, accuracy, and sensitivity.
Application-specific pH & ORP sensing elements are optimized for each application.
Solid-State Reference Junctions employ non-porous cross-linked conductive polymer optimized for each process.
Resilient Plastic Housings
Integrated electronics components, which include: Temperature Compensation, Solution Ground, Analog, and Smart Digital Sensor.
Waterproofing options for fully submersible sensor assemblies.